Rasbora
Senior Member


Joined: 02 Dec 2005



Last Visit: 10 Jul 2011
Posts: 114

Posted: September 14 2006, 8:23 AM

Post subject:

Spelling Words
---
AJ is in second grade and the work load has jumped tremendously this year. He even has spelling words and his first test is tomorrow. I'm little bit blown away with all the changes.
How much work does your children bring home?
his words are
at
cat
sat
ran
an
man
will
no
mom
dad

_________________
mom to three handsome boys (12ds, 9,4)
Hannah's mom
Super Member




Joined: 01 Jul 2001



Last Visit: 08 Sep 2012
Posts: 3433
Location: Adironadack Mountains, Upstate NY
Posted: September 14 2006, 5:34 PM

Post subject:
---
Wow!!! Spelling words. Holy cow. Hannah is in second grade but she is no where near ready for spelling words yet. She usually has one worksheet a night. Something like writing the first letter of words or a simple math sheet. She is in a self contained class though so I am not sure if that would be comparable to what your son is doing.
_________________
Mom to Hannah(11)DS and Logan (7)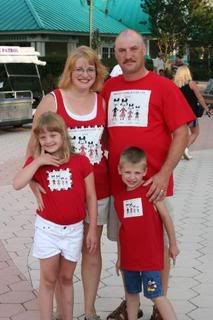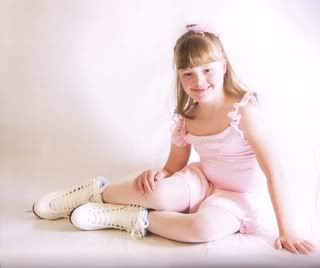 kwisteena1021
Super Member


Joined: 29 Oct 2005



Last Visit: 15 Mar 2010
Posts: 2397
Location: South Florida
Posted: September 14 2006, 7:18 PM

Post subject:
---
Kallie is repeating 1st Grade this year so this is her second year of Spelling Tests. We modified it and have her do five words a week but I will up that by the end of the year cause her phonics is getting really good.
If he/she can't spell then try this, if they already know their letters and sounds.....
for the word cat on the modified spelling test you can do ___at and he/she has to fill in the beginning sound and you can switch it up some so that he/she has to do ending sounds as well. Slowly take away the supports when you feel he/she is ready for it. What you can do is leave little cues like spaces to how many letters there are like __ __ __. like that. I hope this helps and makes sense somehow.
It has worked great. Last year we were at beginning and ending sounds and now we are just at 5 words goal is to get to 10 for one test
_________________
Christina
mommy to Kallie(10,DS and diabetes) and Brittany(
www.kwisteena1021.blogspot.com
lespring
Super Member


Joined: 26 Mar 2005



Last Visit: 20 May 2013
Posts: 12658
Location: Twin Cities metro area, MN
Posted: September 15 2006, 1:30 PM

Post subject:
---
Angela has 10 words per week, and has since she was in 1st grade. She used to bring home math, spelling and reading, but she's just too darned tired. (she gets home at 4:15 and is alseep by 7:00) So now she just does spelling.

She sits at the computer and types out each word 3 times, saying it outloud as she types, ("Hut. H...U...T....Hut") Last year her final score for the year was 85 % for spelling, and we're trying to improve that this year. Her first test last week she got 100%.

We have modified spelling tests all kinds of different ways. Like Kristina's suggest, or having 3 choices like this....

AJ, find the word "like".

The paper has 3 choices.....ikel....leki....like.... Have him start at the left. "Does this look like, "like"?" ......if not cross it out. Do the next one...so eventually the incorrect words are crossed out, and the correct one is circled. (this prevents them from cirling every word.

Another adaptation for word PRACTICE is like this. It's a fill in the blank like Christina said, but expands on that.

Again, using the word "like", fill in each letter that's missing.

_ike _ _ ke _ _ _ e _ _ _ _

We make up all these spelling practice sheets on the computer and then just print off enough for the week. Works great!
_________________
~Leah~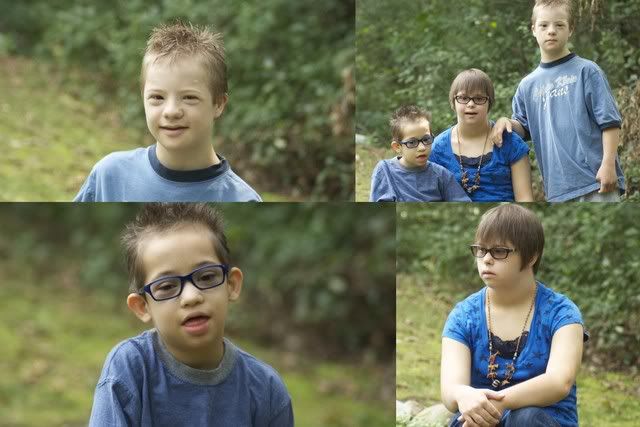 My mom's blog
http://gardenofeagan.blogspot.com/
And don't forget to visit MINE!
http://itsmylifemom.blogspot.com/
mom to Rob 26, Noah 25, Tyler 23, Bryon 23, Angela 16 (DS), Axel 12 (DS, adopted from Serbia 12/2012, AAI w/fusion) Asher 7 (DS adopted from Serbia 12/2011, AAI non-fusion)
Rasbora
Senior Member


Joined: 02 Dec 2005



Last Visit: 10 Jul 2011
Posts: 114

Posted: September 15 2006, 2:45 PM

Post subject:
---
Thanks ladies for your advice, I'll definitly will be using them next week!

_________________
mom to three handsome boys (12ds, 9,4)
acornnurturer
New Member


Joined: 12 Oct 2005



Last Visit: 02 Jul 2008
Posts: 24

Posted: September 25 2006, 8:07 PM

Post subject:

spelling words
---
Hi! My daughter Katie(DS) is also in second grade and she does a modified spelling test in her second grade class. The teacher sends home the 10-12 words spelling list each Friday and circles the 5 words that she wants Katie to be tested on. I have made up a modified test for Katie to take where she circles the correctly spelled word; I email it back to the teacher and that's what Katie uses during the tests on the following Thursday. During the week we study with the test so she can master the words. PM me if you would like to see a sample of our test and some other suggestions for how to tutor your son in spelling.
In the LRE section of the IDEA law it states that our kids should have curriculum modifications so that they can participate with their peers in the regular curriculum. The design of this spelling test is such a modification. Katie is getting 100% on her tests each week so far. In a another two weeks I'll start adding more words to her list so that by next semester she should be up to the 10-12 as the other students. Good luck!
ciarrasmom
Super Member


Joined: 26 Sep 2000



Last Visit: 22 Feb 2012
Posts: 2328

Posted: December 12 2006, 8:51 AM

Post subject:
---
Ciarra does fewer words than the other kids, she is doing well on spelling tests. As for homework, we either get all or nothing, sometimes 3-4 pages sometimes none. We study together, and use clues and word associations to get them right. She struggled with the word THE for some reason, so we told her to think of it as T-HE (teehee) as in a laugh, she hasnt missed it since.
_________________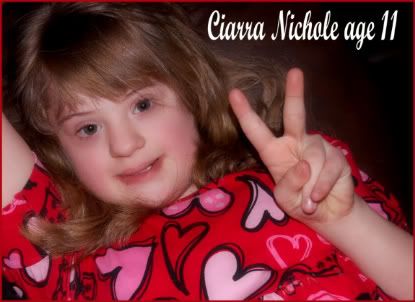 Michelle, Mom of KJnC
Kristin age 21
Jesse age 14
Ciarra age 11 (with DS)