Penny
New Member


Joined: 04 Nov 2008



Last Visit: 28 Apr 2009
Posts: 1
Location: nyc
Posted: November 04 2008, 9:22 PM

Post subject:

new york city kindergarten schools
---
I'm having a really hard time trying to find a good elementary school in NYC for my daughter who will be 5 next december.The D O ED will not let me know where the 12:1 classes will be next year in the public schools, they say I'm starting way too early to look at kindergarten classes for next year. I went to a special ed school fair for private schools & out of the 40 or so schools there, 3 accepted children with Down Syndrome & probably had 5 places between them as they had private 3-5 year programs which move on up to the kindergarten class.
I have called a lot of public schools suggested by friends & other schools & a lot don't want to carry on their self contained classes as they want to improve grades or think they will not recieve funding.
Is there anyone out there that has gone through this last year & has any advice on getting info on a good elementary school. I live in Brooklyn in DUMBO.
Thanks Penelope

_________________
p p p
momofrussell
Super Member


Joined: 05 Apr 2006



Last Visit: 30 Apr 2012
Posts: 4121
Location: St. Louis, MO
Posted: November 07 2008, 9:22 AM

Post subject:
---
So, your daughter is 4 now? Is there someone on your IEP team that could help you? Do you have a Spec Ed Coordinator or something equivalent that could guide you to the schools in your area??

I usually start with my team and coordinator asking what schools ARE my options.... do you need a self contained class or you looking for mainstreaming and/or inclusion?

A.
_________________
Adrienne - mom to: Regan 17, Russell 12 DS, Autism, Visually Impaired, Reece 10.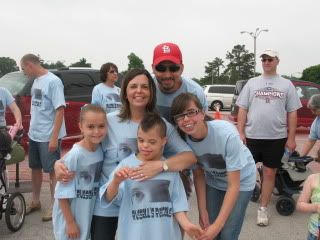 DSAGSL 2009 Buddy Walk
ecki
Super Member



Joined: 23 Apr 2004



Last Visit: 17 Nov 2010
Posts: 6826
Location: Sullivan Co, NY (New York)
Posted: November 07 2008, 1:12 PM

Post subject:
---
My daughter will be in Kindy next year (she turns 5 in April) and no one will even let me LOOK at the choices in schools until she actually turns 5, which is like 1 month before her transition IEP meeting! I'll bug them again in January and see if they can move things along a little faster.
We're not in NYC, but up here in Sullivan County. Don't know much about NYC schools except what I read in the NY Times. I thought they just had an article about a charter school specifically for kids with Down syndrome recently.
ETA: I found the article, looks like it is a private school. but here's the link -
http://www.nytimes.com/2008/08/29/nyregion/29bigcity.html
_________________
Ecki
MomMom of Kayla (Ds/Autism 4/5/04) and Laurie (PDD-NOS 7/12/01)
Our Blog -
Opposite Kids
Kayla's Story
http://www.ecki.com/kayla/
Friend me on
FACEBOOK
(please specify Downsyn, so I know who you are!)