violettesmom
Super Member





Joined: 26 Sep 2007



Last Visit: 17 May 2013
Posts: 1134

Posted: October 04 2007, 6:32 PM

Post subject:

Private EI vs. State?
---
If you could afford private EI therapy's (ST, PT and OT) for your baby and lived in a city with an excellent hospital (like Cincinnati, for instance) for those therapy's, would you pay for it yourself?

If yes, why, and if no, why not?

Thanks,

M
momofrussell
Super Member


Joined: 05 Apr 2006



Last Visit: 30 Apr 2012
Posts: 4121
Location: St. Louis, MO
Posted: October 04 2007, 6:49 PM

Post subject:
---
you mean pay for it above and beyond EI (added to EI services) or INSTEAD of EI?

I don't know how all states do it, but I will say that I know work for a SLP who also owns her own business and employs about 60 therapists in our area. We also contract out to our first steps program, the schools AND private pay/ins pays. So, you'd get the same therapist and services from us regardless if you went through your EI program or private paid. Unless YOU wanted to pay for more.

A.
_________________
Adrienne - mom to: Regan 17, Russell 12 DS, Autism, Visually Impaired, Reece 10.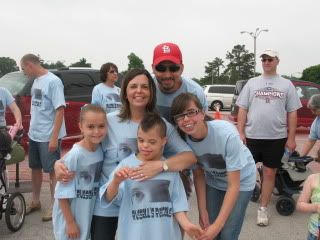 DSAGSL 2009 Buddy Walk
naomid
Super Member



Joined: 21 Apr 2003



Last Visit: 18 May 2013
Posts: 4901
Location: Hale, UK
Posted: October 05 2007, 4:01 AM

Post subject:
---
I've paid for private PT and a private speech evaluation.

The PT we did privately when we wanted a new approach and Callum was no longer responding to the environment or the PT that were provided through EI and the only alternative offered through EI was home based which we already knew Callum wasn't going to do.

The speech eval I paid for was to get the ball moving on his getting speech through EI, we were told they wouldn't even consider it until he was 2 years old and I wanted it sooner.
_________________
Naomi
Mum to Callum (DS) 3/03 and Kieran 8/04
Read all about us
Our Photo's
Our Video's
Our You Tube Channel
South Manchester Down Syndrome Group
elizasmom
Super Member



Joined: 28 Jul 2005



Last Visit: 24 Jun 2011
Posts: 2562
Location: Marin County, CA
Posted: October 18 2007, 4:40 PM

Post subject:
---
I found our PT and SLP privately, did a private assessement, and paid for a few months of them until our next IFSP when EI said they would cover them - one they use quite a lot and another not so much. I went with their usual OT because i liked him the best of the ones i interviewed. I liked being able to pick the therapists for my daughter's team instead of just being given them, which happens in a lot of cases and some people have no choice because they are the only people available.

That being said, once Eliza ages out of EI I am getting prepared for having to supplement privately!
_________________
Liz - Mom to Walker (3/24/02), Eliza (Ds) (5/6/05), Alden Jane and Noah Henry (5/2/08 )