JanAndFamily
Senior Member


Joined: 18 Sep 2008



Last Visit: 02 May 2013
Posts: 303
Location: Asia
Posted: May 12 2011, 7:36 AM

Post subject:

Won't stay in seat at preschool
---
We've recently learned that Christopher is a bit all over the place at preschool. He does well during outdoor play time, exercise time, etc., but doesn't like sit-at-the-table activities. I'm sure my child isn't the only one who's had this problem. Does anyone who's been there have any suggestions for how teachers have helped a child learn to stay in their seat when they're supposed to?

Thanks,
Jan
JanetG
Super Member




Joined: 19 Sep 2007



Last Visit: 20 May 2013
Posts: 1583
Location: KC Metro
Posted: May 12 2011, 8:02 AM

Post subject:
---
What about having them assign him a buddy, someone who can help remind him to sit down and someone he can emulate??
_________________
Janet (47)
Joshua (angel) '85 (1 day old)
Sarah-age 25
Jaret-age 8
Jacey-born 2/22/08 (dx w/ Ds 9/10/07)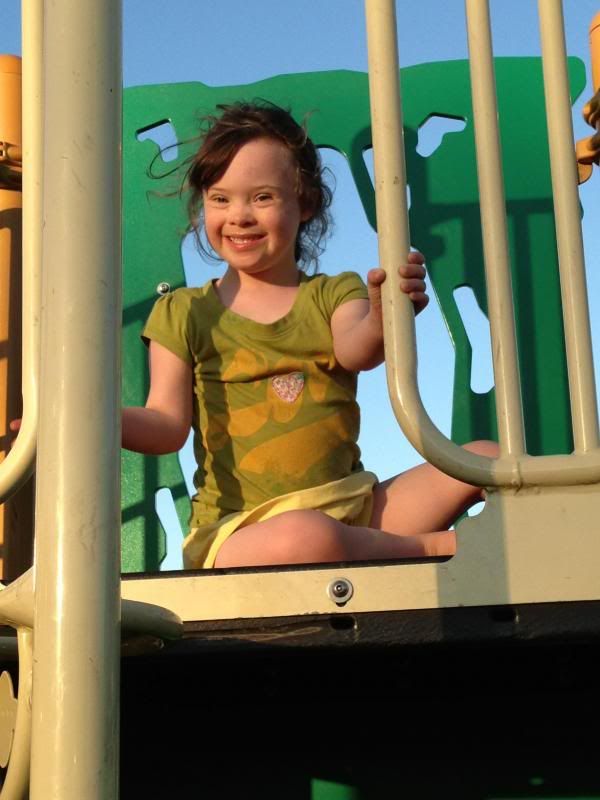 Dylans_Mom
Senior Member



Joined: 29 Oct 2008



Last Visit: 03 May 2013
Posts: 286
Location: Illinois
Posted: May 12 2011, 10:51 AM

Post subject:
---
we have the same problem. Here are some things that worked

-during story time, he is given a copy of the same book the teacher is reading to follow along.
-teacher would give him a choice to sit on the carpet or sit in a special chair
-teacher would give him a weighted stuffed animal to hold onto.
-teacher had a picture to use for a visual, so if he tried to get up she would show him the picture to sit, sometimes she said she would let him hold the picture as a reminder

our problem was mostly during circle times, if he is at a table doing work he is ok. He generally needed something to hold to keep his hands busy, which helped him sit longer
_________________
Sandy (Dylans_Mom)
Mom to Hailey 3/2002, Dylan (ds) 12/2005
seansmom
Senior Member


Joined: 13 Nov 2010



Last Visit: 22 May 2013
Posts: 749
Location: Alberta, Canada
Posted: May 12 2011, 11:30 AM

Post subject:
---
I agree with Sandy. We have done all those things with Sean. Our kids don't have the muscle tone to keep them sitting still at a desk for long periods of time. They need to build movement breaks into his routine. Sean often stands and leans over his desk/table while working. He uses the carpet, bean bag chair etc. They also will give him breaks to walk down to the office to deliver something just to get him moving expecially when he's getting antsy. Some of the learning activities can have gross motor skills built in too. For ex. working on colors, four cups are put at the end of a hall and he has to run and put the blue ball in the blue cup and so on. They can come up with all kinds of stuff like that.
_________________
Kellie Mom to Sean 10 yrs with DS and Carly 14 yrs
Tigger
Super Member




Joined: 28 Jan 2006



Last Visit: 23 May 2013
Posts: 7467
Location: NSW, Australia
Posted: May 13 2011, 3:04 AM

Post subject:
---
Talitha moves constantly but has learned over time to be able to sit at a desk or table. It works as long as she is allowed to squirm. When she first started circle time her aide had to have her sit in her lap& gradually build up the amount of time she had to sit for. She would hold a doll or stuffed toy too.
momlorac
Senior Member


Joined: 14 Jun 2006



Last Visit: 22 May 2013
Posts: 886
Location: CT
Posted: May 13 2011, 10:56 AM

Post subject:
---
Abigail had one of the chairs that had the sides on them. They also made sure that her fit were able to touch . I think at first they put something under the chair. At cirlce time they sat in chairs and she had someone siting in back of her. She still does not sit for a long time
_________________
Carol mom to Adam 6/17/96 ,Emily 8/7/98, Abigail (DS)8/16/04